VinPOWER is a data-integrated software library, that allows on-premises VIN decoding. Additionally, it can be integrated into almost any operating system. This provides the functionality of a decoder while simultaneously providing validation and verification. To enumerate, all our VINs are compliant with ISO-3779 and NHTSA Title 49 authorization. We want to emphasize, this verification and validation process ensures accurate data is provided in each decode. Furthermore, data is available on vehicles manufactured from 1981 to the present and we offer enhanced data for vehicles made after 2010
Another key point, we offer a full 17-digit decode as the very minimum of the material provided. Coupled with offering enhanced vehicle data* we have the most vehicle information per decode of any VIN application available. In addition, ESP Data Solutions provides weekly updates ensuring that the VIN information is always current. In sum, the VinPOWER software library is a powerful tool to expand VIN decoding capabilities and it provides a range of features and functions, making it easy to decode VINs.
VinPOWER Software Library
The VinPOWER software library is a versatile tool for gathering accurate automotive data. Not to mention, we developed several proprietary algorithms that provide trusted VIN information ensuring all our VINs pass the check digit formula. Additionally, ESP Data Solutions validates VINs against existing information and data we collect from the NHTSA and other sources. In view of our data collection methods, we are not a VIN look-up company. In effect, VinPOWER has been the leading VIN decoder for over 25 years, servicing over 20 automotive industries. Consequently, by providing real data from real sources, VinPOWER remains the foundation of all VIN solutions we provide.
VinPOWER is available in separate modules, allowing custom data sets to be specified. VinPOWER comes in the following units:
Basic (passenger vehicles up to NHTSA class 3)
Heavy Trucks
Busses
Motorcycles
Rv's
Trailers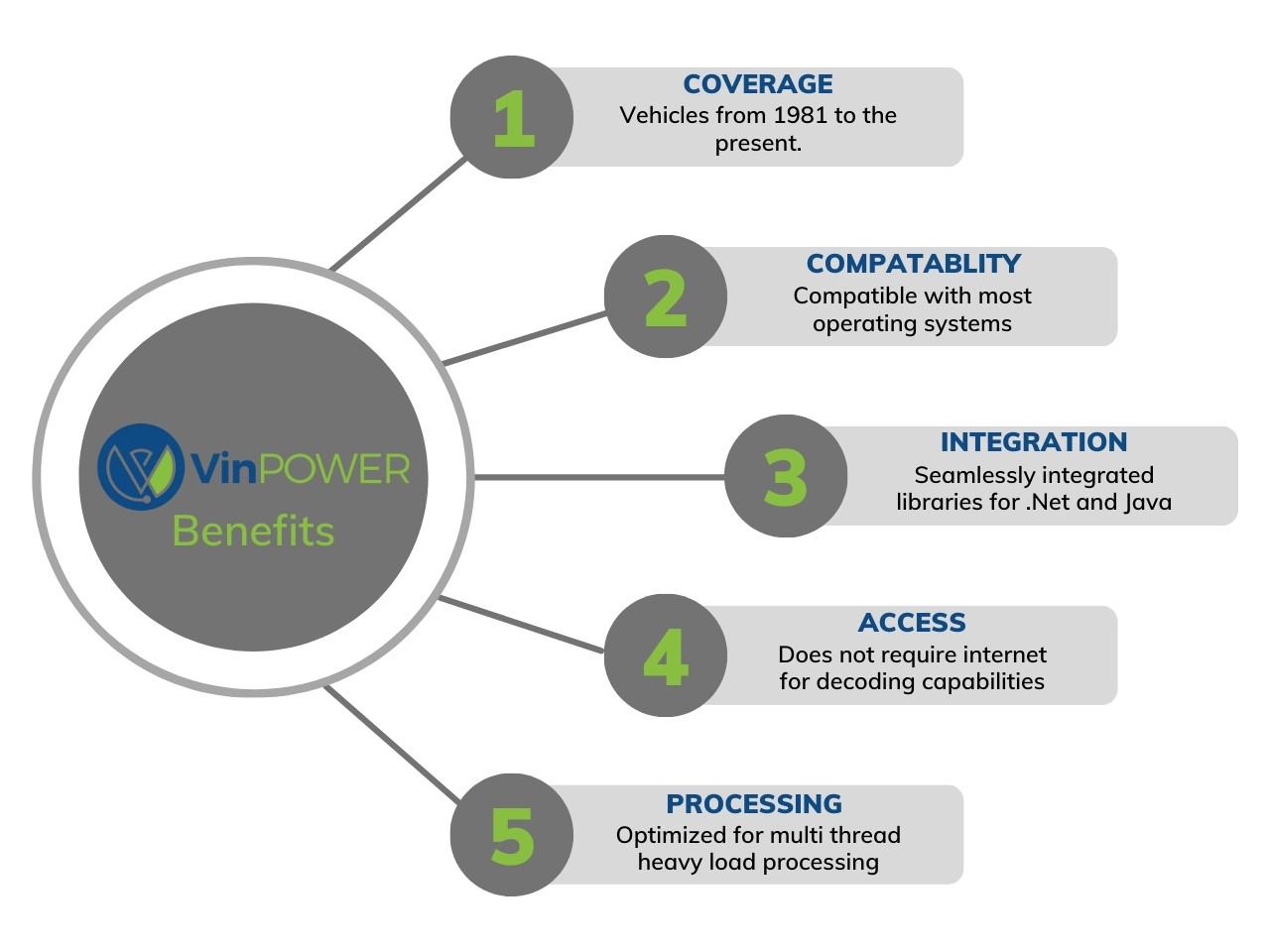 For more details about VinPOWER VIN decoder, please email Sales@espdata.com or feel free to call us at (978) 975-3333