JAVA VIN Decoding
VinPOWER for JAVA VIN Decoder is for Unix, Linux, Windows, and any other developer utilizing JAVA technologies. Knowing many different types of businesses need a reliable and fast source of VIN information made it critical that ESP Data Solutions create a multi-platform tool. Not only does VinPOWER for JAVA work well with JAVA's verbose language, but also returns results quickly and efficiently. In particular, it uses a multi-thread heavy load processing protocol. This allows access to the most accurate VIN information quickly and is great for larger decoding needs.
Moreover, VinPOWER Java utilizes a VIN decoder technology that we created, as well as allows access to a comprehensive database of vehicles. All our data is provided as a standard JAVA object, making a simple interface for programming. This makes VinPOWER for JAVA an ideal resource for the most accurate VIN information on the market. We are the only VIN data supplier that collects and catalogs original OEM VIN data sheets. In fact, we collect information from 1981 to the present.
Data and Accuracy
All VinPOWER services decode the VIN through the 17th digit, and we offer enhanced information that is not provided within the VIN structure. An example of this enhanced information would be vehicle weights and dimensions. For this enhanced information we provide it for vehicles manufactured after 2010. VinPOWER for Java is no exception, and with the Basic Module, we cover all class 1-3 vehicles.
Collecting our data from the manufacturer and secure sources allows us to offer the most accurate information possible. This ensures that not only are we precise, but we can also keep all our information up to date with the provided weekly updates.
Furthermore, we also offer custom data mapping of certain vehicle attributes, allowing for deeper system customization.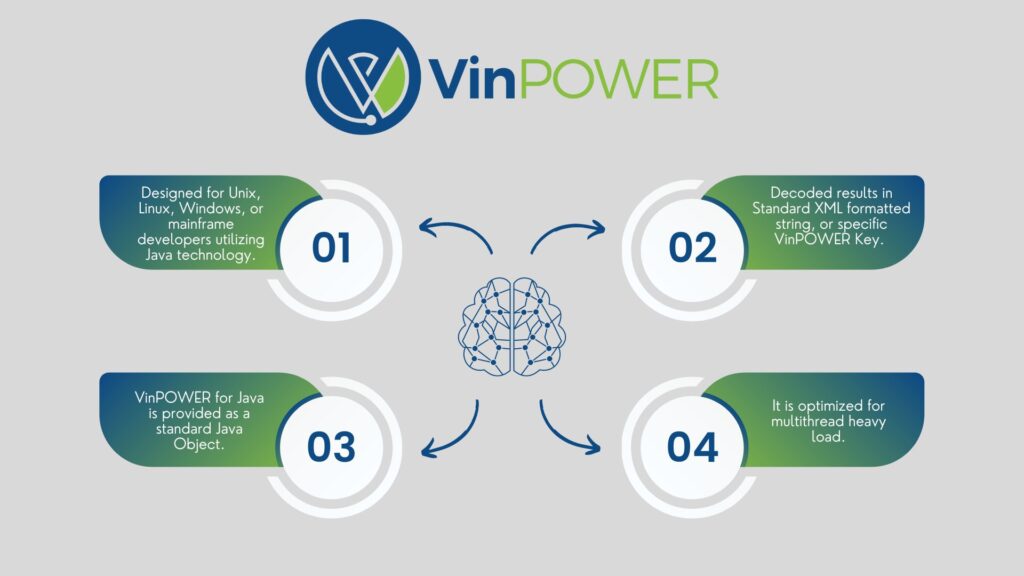 For more details about VinPOWER JAVA VIN decoder, please email Sales@espdata.com or feel free to call us at (978) 975-3333