Backed by the data from the VinPOWER system, ESP Data Solutions offers flat data tables of vehicle information. Year Make Model Tables are complex information libraries presented by year-make-model instead of a traditional VIN format.
In the first place, YMM Tables are not a traditional VIN decoder. Instead, they are incredibly useful for vehicle trend details, and are the perfect tool to generate data for general vehicle categorization, website building, and drop-down menu formatting. Furthermore, we cover all vehicles from 1981 to the present. Additionally, they are covered in individual modules, which are sold separately, allowing only the information needed to be purchased.
Year Make Model tables are offered in the following categories:
Basic*: NHTSA Class 1-3
Heavy Trucks: NHTSA Class 4-8 or greater
Motorcycles
Buses
RV's
Trailers
Attributes offered
In this case, we offer an extensive list of vehicle data attributes in our Year Make Model tables, with weekly updates available**. Moreover, we also offer custom data mapping for data attributes not provided on this list. For additional information please contact our sales team at: Sales@espdata.com or by phone (978) 975-3333.
Listed below are some of the attributes we provide
Year
Make
Model
Body Type
Trim Level
Engine Type
Country of Origin
Assembly Plant
Production Sequential Number
Cab Type
Drive Line Type
GVWR Class
GVWR Production Range
Manufacturer
Frame Type
Restraint System
Series
Vehicle Type
Vehicle Class
Chassis
Transmission
Emission Codes
Brake Systems
Trailer Type
Fuel Type
Engine Manufacturers
Engine Series Code
Axle Configuration
Motorcycles Type
Engine Displacement
Horsepower
We cover all vehicles from 1981 to the present with our Year Make Model Tables.
A sample vehicle information set from the YMM Library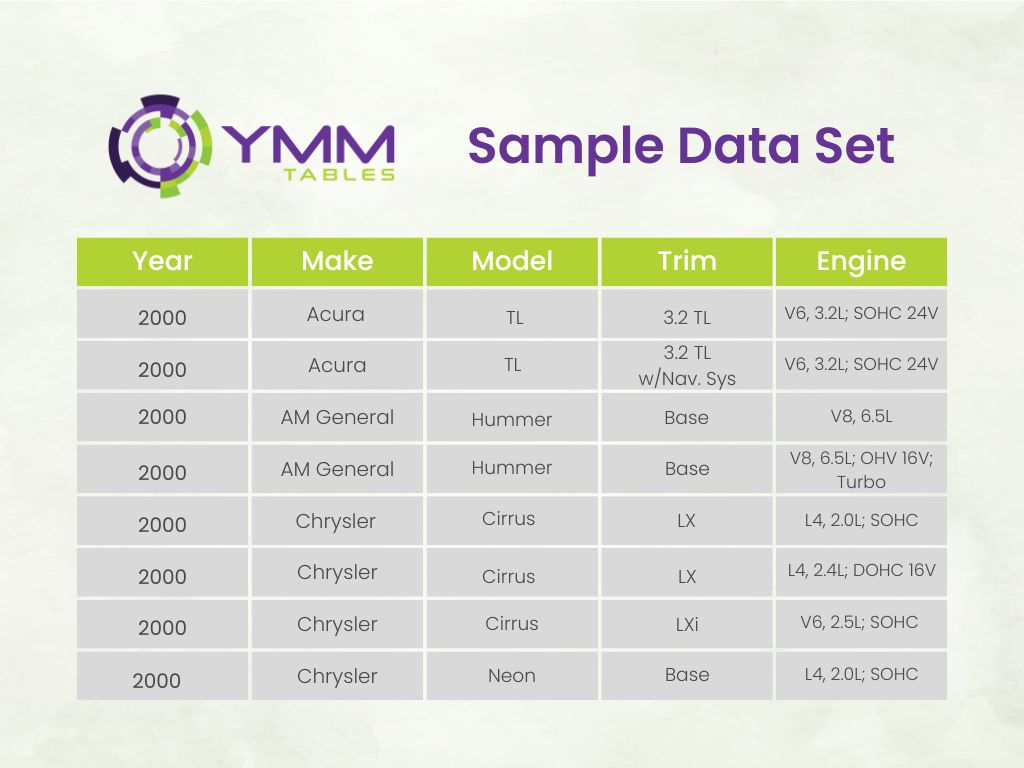 For more information, and pricing details please email: sales@espdata.com or call (978) 975-3333.
*Basic vehicle module: is defined as an on-road motorized registerable vehicle under 14,000 lbs.
**Updates must be downloaded by the user. Downloading updates weekly ensures most accurate data provided. VIN Support available only in cases of inaccuracies in VIN Data.