Vin Decoder Online
Free! VIN Decoder can tell you basic car facts (Year, Make, Model), if you need more try vinlink.com.
Your Vehicle Report
This report contains only basic car information decoded from the VIN. By using our software or online services you could get much more data then shown below.
Decoded data for VIN: 1GDY7RFF2H1196006
How does it work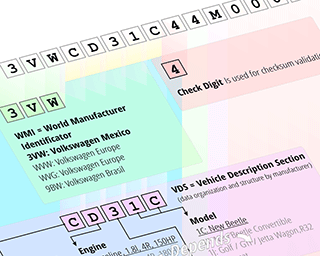 Each car producer is obligated to give each car it produces a unique number. To avoid collisions these numbers are divided into prefix groups. By knowing these prefix groups, also known as World Manufacturer Identification, we can determine who produced the car.
Vehicle Identification Numbers also contain sections related to year of production.
The production year is contained inside the number space prefixed with WMI, but various other rules may exist. Most of these rules are specific to each producer. These rules abbreviate information, like production plants, trim levels, driveline, engine, and transmission types, all into VIN characters.
For 20 years ESP Data Solutions Inc. has gathered data and continues to build databases of vehicle intelligence knowledge.
Our databases can be used in various ways. When it was discovered that many vehicles had faulty airbags, we offered our knowledge for public safety. We specifically created a website to check for faulty airbags. It was a free service based on our ability to decode VIN information.
Usage history
Recently decoded VINs: